Testimonials – what people have said about our leadership programmes
"it was excellent and I would recommend it highly"
"increased my confidence in my own ability"
"the most useful training I have undertaken"
"I found this an inspirational programme"
"very well led"
"I learnt a lot about myself"
"an excellent mix of theoretical input and real life situations provided by colleagues in other colleges"
"it was fabulous sharing with so many great people from different colleges"
"a good mix of styles and activities"
"mentor meeting was very helpful in putting ideas into perspective/action"
"I gained so much from it and look forward to putting it into action"
"difficult to improve"
"time flew by"
"excellent programme that kept me engaged"
"I learnt a lot"
Leadership Development
The Wessex Group offers a range of leadership development opportunities to its staff and senior managers.   There are annual programmes for future, middle and senior managers as well as for support staff team leaders.  From 2011, an accredited coaching programme with a focus on building capacity and improving performance is also offered to senior staff in the partnership.  Programmes are endorsed by the Sixth Form Colleges Association.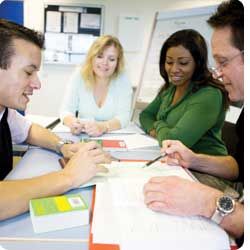 The programmes are bespoke. We use both external and internal trainers briefed to deliver according to our tailored programmes for leadership development in the Wessex Group.  Participants are assigned senior staff as mentors for the duration of the programme.  Further details of our programmes can be found in our most recent BROCHURE.
The Wessex Group has worked hard to develop programmes that have real impact on the work that people do when they return to college.  In 2010 we added to our existing evaluation programme and conducted a longitudinal review of the effect of the leadership programmes over six years. 
The subsequent report - LSIS and the Partnership's Review of Leadership and Leadership Development in Hampshire Sixth Form Colleges – is available to download here

.
LSIS also used our programmes as a case study in developing bespoke training.